At Gunn & Moore, it's important to us to offer a range of bats suitable for every player from professional to beginner, whilst also being able to assure every GM customer that the bat itself is of unparalleled quality.
In fact, we're so proud of our production quality we've launched the campaign #NothingToHide, illustrating the confidence we have in all of our English Willow cricket bats. In our catalogue we publish an image of our bats displaying each grade with no logos on at all, just the willow in all its glory, which is shown in the picture below and on our social media platforms.
The quality of willow is of the upmost importance in batmaking, but of equal importance to us at GM is the care we put into each English Willow bat that leaves our factory. All of our English Willow bats provide factory fitted protection thanks to GM Bat Care. The GM Now! Service encompasses all of our bats being "knocked-in" by the batmaker in-house, before raw linseed oil is applied to reduce cracking and splitting by maintaining the moisture level of the blade, whilst an clear anti-scuff cover is applied to the face and edges to increase blade durability. ToeTek DriGuard is applied to resist damp and minimise toe swelling, which in turn also reduces toe damage and feathering that that is often caused by tapping at the crease.
You may be wondering why we list each English Willow bat with 'DXM'. Our world leading DXM process implements the findings of a 5 year research programme into bat materials and manufacturing technology. Substantial investment in research, expert advice and machinery means a superior wood conditioning improves the stability and consistency of willow pre-production..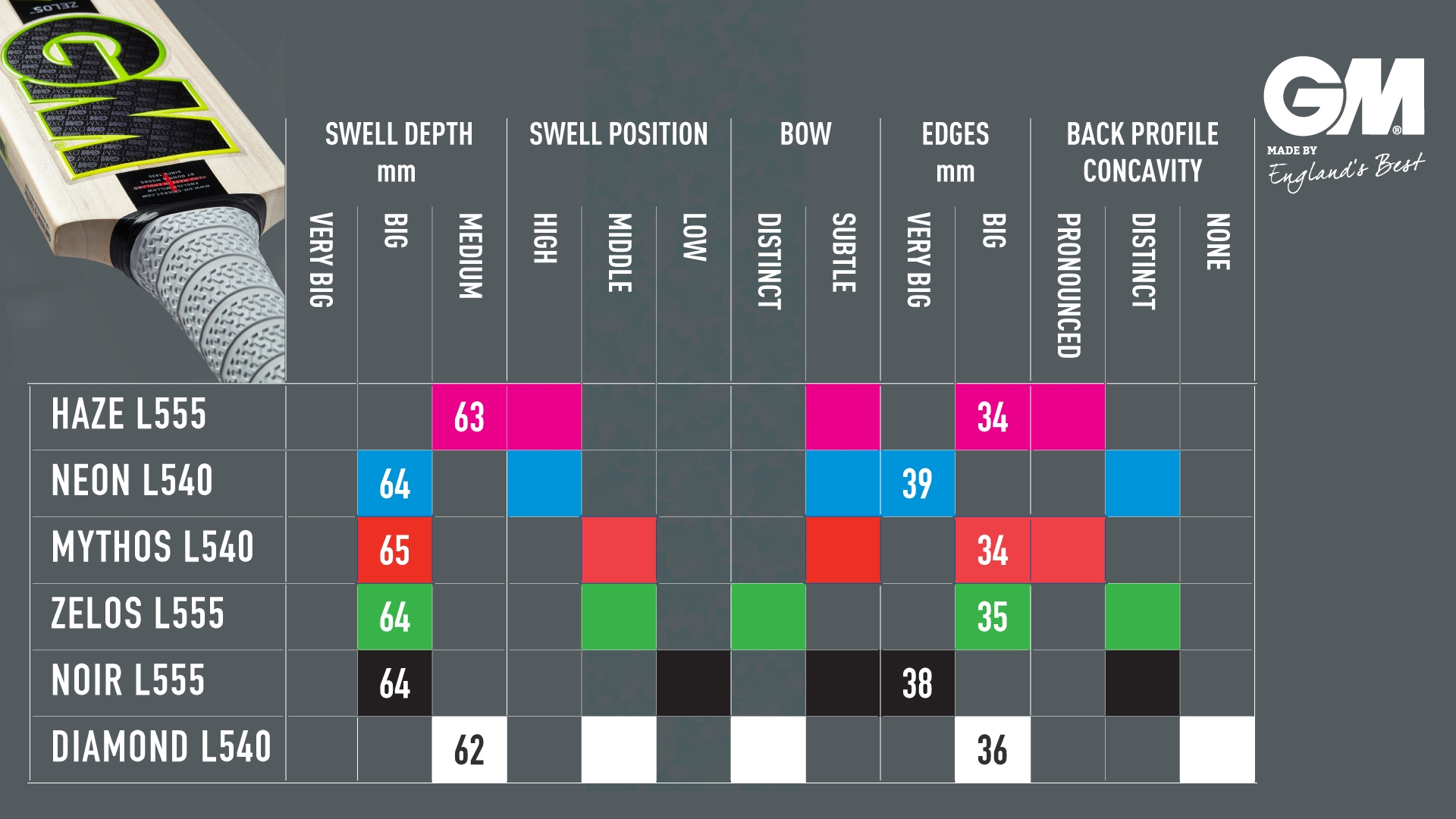 Thanks to our industry-leading technology, we are able to offer a fantastic range of bats, ensuring that somewhere in our range is the perfect bat for you as our range of bats is designed to suit every technique and budget. GM 2019 Adult bats feature two different blade lengths – L540/555. Each blade shape is optimised for a specific blade length. As blade length decreases, handle length increases so that the overall length of the bat remains constant. Shorter blades allows for faster hands through the ball, more dynamic sweet spots, larger swells, supreme balance and explosive power.
Selecting a cricket bat is a very personal decision. There are no right or wrong bats, the bat to choose is the one that feels most comfortable for you. We recommend that you always feel the bat before you buy it and that you pick up several bats before making your final choice. All GM DXM English willow bats are made by our own craftsmen in our own factory in Nottingham, England. GM 5 Star dealers carry a wide range of GM bats and will give sound advice.
We offer English willow bats in nine qualities with each developed around different grades of willow. Below, is the accompanying text to that afforementioned photo which takes you through each grade that we offer, with an explanation of why each bit of wood is graded differently and what we at GM look for when grading a bat.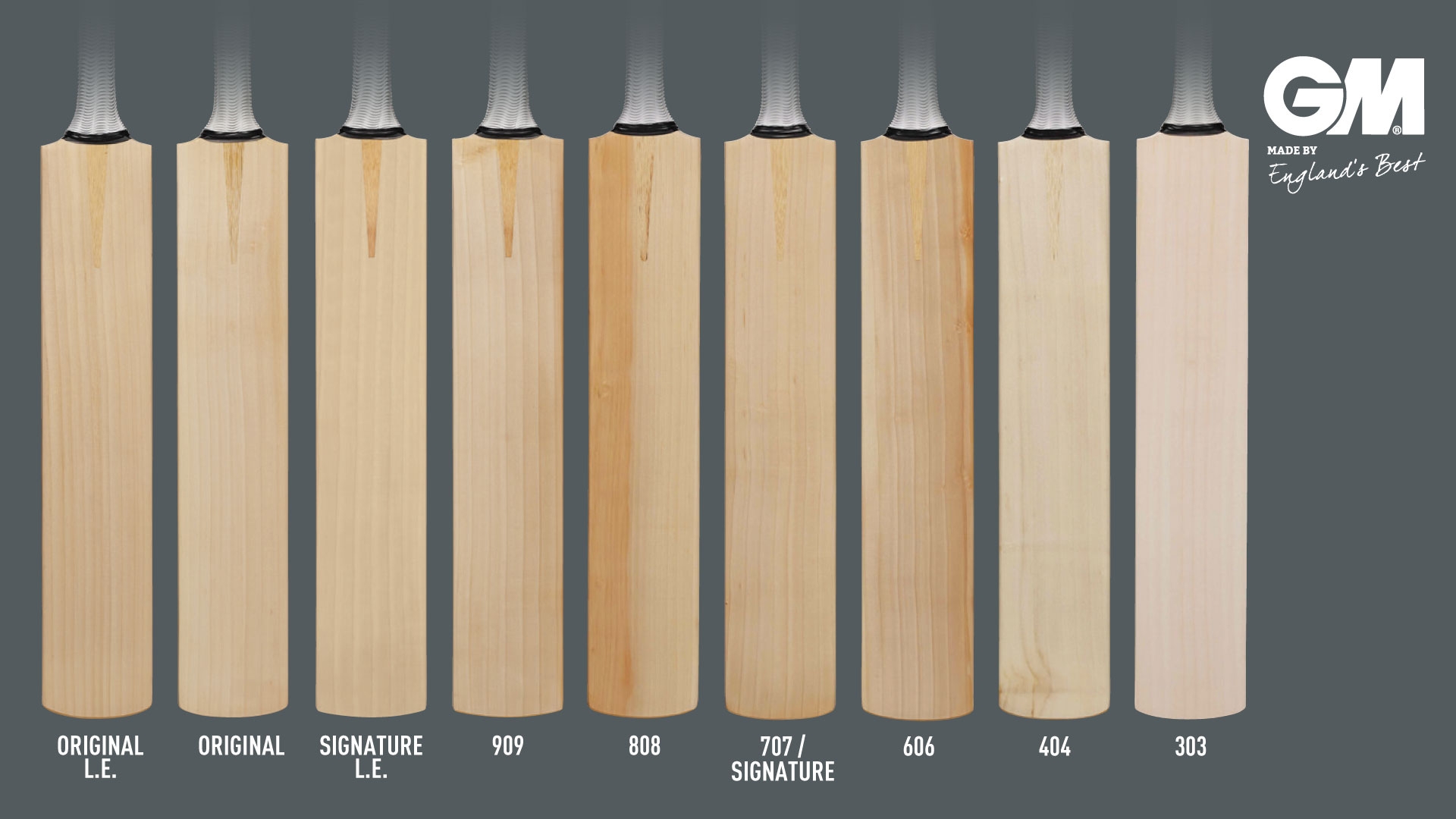 ORIGINAL L.E. *****
+ The very best unbleached seasoned Grade 1 English Willow

+ Selected for grain structure and weight
+ Limited by willow availability
+ Bats individually tested to ensure 5 Star performance
+ Fitted with top quality treble spring multi-piece cane handle for outstanding feel, flex and control
+ GM NOW! & ToeTek™ finish fitted as standard
ORIGINAL *****
+ Superior unbleached seasoned Grade 1 English Willow
+ Predominantly straight grained with a hint of colour and minor cosmetic blemishes
+ Fitted with top quality treble spring multi-piece cane handle for outstanding feel, flex and control
+ GM NOW! & ToeTek™ finish fitted as standard

SIGNATURE L.E. *****
+ Prime unbleached seasoned Grade 1 English Willow
+ Predominantly straight grained with colour on one edge and minor cosmetic blemishes
+ Fitted with top quality treble spring multi-piece cane handle for outstanding feel, flex and control
+ GM NOW! & ToeTek™ finish fitted as standard

909 *****
+ Unbleached seasoned Grade 1 English Willow
+ Predominantly straight grained with colour on one edge and minor cosmetic blemishes
+ Fitted with top quality treble spring multi-piece cane handle for outstanding feel, flex and control
+ GM NOW! & ToeTek™ finish fitted as standard

808 *****
+ Superior unbleached seasoned Grade 2 English Willow
+ Minor blemishes, may have some colour to one edge
+ Fitted with good quality treble spring multi-piece cane handle for outstanding feel, flex and control
+ GM NOW! & ToeTek™ finish fitted as standard
707 / SIGNATURE ****
+ Seasoned unbleached Grade 2 English Willow
+ Minor blemishes, may have some colour to one edge
+ Fitted with good quality treble spring cane handle
+ GM NOW! & ToeTek™ finish fitted as standard

606 ***
+ Superior Seasoned unbleached Grade 3 English Willow
+ Minor blemishes, may have some colour to one edge
+ Fitted with good quality treble spring cane handle
+ GM NOW! & ToeTek™ finish fitted as standard
404 ***
+ Seasoned bleached Grade 3 English Willow
+ Knot marks with some stain/speck
+ Fitted with treble spring cane handle
+ GM NOW! & ToeTek™ finish fitted as standard
303 *
+ Seasoned Grade 4 English Willow
+ Grained GM polycarbonate DuraCover
+ ToeTek™ toe guard fitted as standard