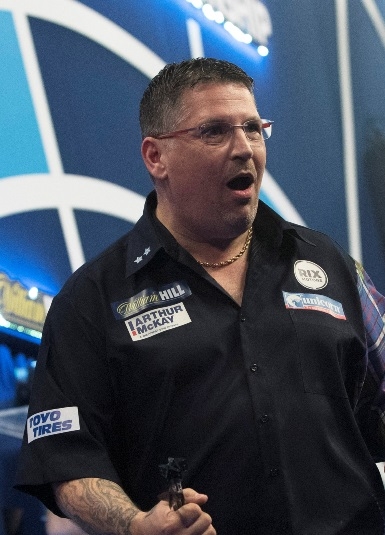 It was the match of the tournament and Unicorn star Gary Anderson has won through to the last 16 at the World Championship after an Alexandra Palace epic.
He beat Jermaine Wattimena in a nail-biting last set tie-break after missing five darts to win the match 4-2.
It was what the World Championship is all about. It was a happy 48th birthday in the end for Anderson.
Pure drama, pure theatre, pure entertainment.....
"I can't believe that I won that," Gary admitted. "He was brilliant and he kept pushing and pushing. I made it very difficult for myself but I hung on in there. I knew I could hit back in that last set. It is a relief for sure. I'm getting too old for this!"
The Dutchman played the match of his life and set his stall out with a 142 finish in the opening leg. He took that set before Anderson got to work.
Gary hit five 180s and took the next three sets to take control. It looked like he had broken Wattimena but not a bit of it. In a crazy fourth set which saw three 177s in four legs the Dutchman stayed in the match.
Anderson went two up in the sixth set and it looked all over but he blew five match darts at D4, D2 and D1 and Wattimena pounced. Three legs on the spin and in no time at all, it was three sets apiece.
The alarm bells were ringing for Anderson as Wattimena took out 87 on the bull then broke the Unicorn man's throw.
The Dutchman threw for the game but back came Anderson as he broke throw. In the next leg, Wattimena missed the bull for a 170 to win. Gary held on and we were into the tie-break.
It was sensational. Wattimena banged in a 12 darter, Gary hit back and the crucially broke throw on D2 with the last dart in hand.
After Wattimena again missed the bull for another 170 to stay alive, Gary hit the sweetest of 'tops' and he'd done it.
There was relief and elation......a World Championship Classic.
But it turned into a horror show for Kim Huybrechts as he won only five legs in a 4-0 defeat at the hands of Dave Chisnall.
After losing the opening set in a deciding leg, he fought back. Chisnall missed seven darts for the second set. The Belgian came from two legs down and had set darts of his own.
But he missed two at 'tops' and watched his opponent nail a 110 check-out. Huybrechts never recovered from that blow and he won only more leg as Chisnall swept into the last 16.
Saturday 3rd Round results:
Gary Anderson 4-3 Jermaine Wattimena (5-3 tie-break)
Ryan Joyce 4-3 Alan Norris
Dave Chisnall 4-0 Kim Huybrechts
Jamie Lewis 4-3 Daryl Gurney (4-2 tie-break)
Ryan Searle 4-1 William O'Connor
Michael van Gerwen 4-1 Max Hopp
Report from STUART PYKE
Image courtesy Lawrence Lustig / PDC