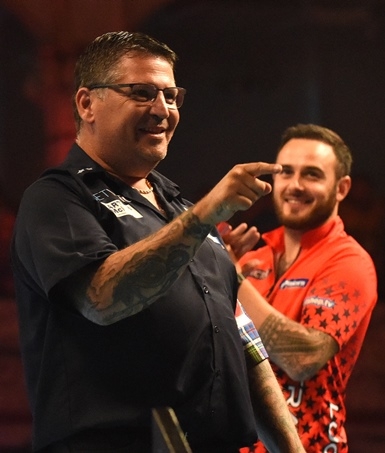 It will go down as one of the best nights in the 25-year history of the World Matchplay.
Gary Anderson hit an amazing 9-darter as he edged out Joe Cullen 19-17 in one of the best matches ever seen on the Winter Gardens stage.
And Jeffrey de Zwaan has done it again! A magnificent display to beat Dave Chisnall 16-8. Real quality to set up an all Unicorn semi-final clash with Anderson.
But the Scot raised the Winter Gardens roof with another televised 9 darter which earns him a £45,000 bonus!
"Joe was terrific. He played superbly and pushed and pushed and punished me for missed doubles. The 9-darter was sweet because it felt like it was going to happen. In the end I needed a bit of luck and I will have to play a lot better if I want to win this tournament."
Cullen was crest-fallen, and you can't blame him after playing the match of his life.
"It is difficult to take. I gave it absolutely everything up there and it wasn't to be."
And in one dramatic incident Joe missed two match darts to win 16-14 at D18 and then a fly flew across his eyeline as he took aim at D9 and it clipped the top wire. It was heart-breaking for Cullen.
"I saw it just as I was releasing the dart. I don't know whether it made any difference or not," he admitted.
Anderson's magical moment came in the fourth leg...180, 180 and 141 on D12. It was very special.
He actually took out 141 in the next leg as well. To be fair Gary missed chance after chance on the doubles and Cullen was brilliant. He played at the very top of his game.
It went one way then the other. It was a magnificent sporting contest.
Cullen edged 11-9 in front after a sensational 170 finish! It was Anderson's turn to hang in there. And he did!
But he blew two darts to break Cullen for 15-13 to throw for the match and Joe levelled at 14 apiece!
After those two dramatic missed match darts for Cullen, Anderson drew level at 15 all. They were throwing everything at each other. It was spellbinding.
Into the tie-break and five legs all won on throw. Gary missed one at 'tops' to win 19-17 then Joe blew three at the same target to force a sudden death leg and back came the Scot to hit D20 and that was that.
A classic. A real Blackpool classic....breathless and breath-taking.
Well, the Jeffrey de Zwaan story has another thrilling chapter.
What a fantastic display to dispatch Chisnall and follow up those special wins over Michael van Gerwen and Adrian Lewis.
"It is amazing. My heart was racing," he said. "I took everything he could throw at me and counter attained. I love playing on that stage and I don't want it to end!"
Chisnall hit five 180s in six legs with two 13 darters, two 11 darters and a 12 darter. He was 4-2 in front but that was the signal for De Zwaan to come storming back.
He got back to five apiece with 180s of his own. He dominated with some special darts. Two 174s and a 171s and he turned it round superbly, averaging 105 all the way. After Chisnall missed darts to lead 8-7, the Unicorn starlet won nine of the next 10 legs to face to a spectacular triumph.
A star has been born this week in Blackpool. In the end eight 180s and an end average of 103 with a superb 52% on the doubles.
Anderson against De Zwaan.....we can't wait!
Thursday Q/Final results:
Jeffrey de Zwaan 16-8 Dave Chisnall
Gary Anderson 19-17 Joe Cullen
By STUART PYKE at the Winter Gardens
Images courtesy Lawrence Lustig / PDC