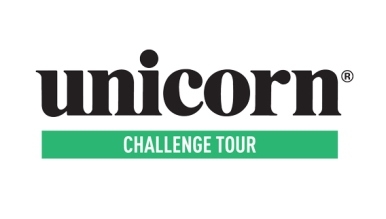 Michael Barnard and Adam Huckvale enjoyed PDC Unicorn Challenge Tour victories as the year's third double-header weekend concluded in Wigan on Sunday.
Barnard claimed his third Challenge Tour win of the year, while Huckvale became the tenth different winner in 2018 from a dozen tournaments.
The winner of Saturday's Event Ten, Barnard overcame veteran Andy Jenkins 5-3 in the final in Wigan to complete his weekend double with a second £2,000 title.
The 41-year-old recorded whitewash 5-0 wins over Sam Booth and Jamie Kelling in the opening two rounds, before beating Eddie Lovely 5-1 to progress to the last 32.
A 5-3 win over Kevin Garcia was then followed by a 5-2 triumph over Jay Foreman as Barnard reached the quarter-finals.
Barnard beat Cameron Menzies 5-2 in the last eight, before recording a 5-3 win against Dennis Nilsson - who threw a nine-dart leg during Event Ten on Saturday - to set up a final with Jenkins.
In Event 12, Adam Huckvale defeated Darren Beveridge 5-3 to seal his maiden Challenge Tour triumph.
Huckvale beat Antony Darlow 5-1 in round one, then edged past Ash Hilditch 5-4, before recording a whitewash 5-0 win over Wes Newton.
The Event Six semi-finalist then beat Jesus Noguera Perea 5-1, followed by a 5-2 quarter-final victory over Paul Phillips and saw off Stuart Kellett 5-3 to book his place in the final against Beveridge.
Event 12 also saw Bournemouth's Lee Turle hit a perfect nine-dart leg in his 5-4 defeat to Dave Prins.
Nilsson completed a memorable weekend with two semi-finals on Sunday, while Event Nine winner Cody Harris reached the last eight in Event 12.
The PDC Unicorn Challenge Tour will continue on September 8-9 as Events 13-16 take place at the Robin Park Tennis Centre in Wigan.
PDC Unicorn Challenge Tour
Sunday May 6, Robin Park Tennis Centre, Wigan
Event 11
Last 16
Andy Jenkins 5-2 Matthew Dennant
Ted Evetts 5-3 Rhys Griffin
Boris Koltsov 5-1 Wilco Vermeulen
Barrie Bates 5-3 Chas Barstow
Dennis Nilsson 5-1 Brett Claydon
Martin Atkins 5-4 Dave Prins
Cameron Menzies 5-3 Scott Dale
Michael Barnard 5-2 Jay Foreman
Quarter-Finals
Andy Jenkins 5-3 Ted Evetts
Barrie Bates 5-1 Boris Koltsov
Dennis Nilsson 5-3 Martin Atkins
Michael Barnard 5-2 Cameron Menzies
Semi-Finals
Andy Jenkins 5-2 Barrie Bates
Michael Barnard 5-3 Dennis Nilsson
Final
Michael Barnard 5-3 Andy Jenkins
Event 12
Last 16
Stuart Kellett 5-2 Reece Robinson
Cody Harris 5-1 Matt Clark
Paul Phillips 5-3 Geert Nentjes
Adam Huckvale 5-1 Jesus Noguera Perea
Dennis Nilsson 5-4 Christoff Van De Wal
Andy Boulton 5-3 Kevin Garcia
Darren Beveridge 5-3 Adrian Gray
Yordi Meeuwisse 5-2 Boris Koltsov
Quarter-Finals
Stuart Kellett 5-2 Cody Harris
Adam Huckvale 5-2 Paul Phillips
Dennis Nilsson 5-4 Andy Boulton
Darren Beveridge 5-2 Yordi MeeuwisseSemi-Finals
Adam Huckvale 5-3 Stuart Kellett
Darren Beveridge 5-3 Dennis Nilsson
Final
Adam Huckvale 5-3 Darren Beveridge