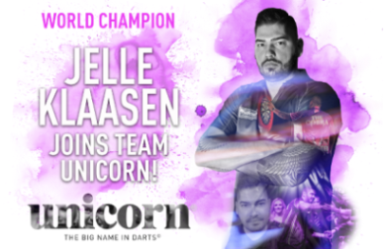 Dutch darting Star Jelle Klaasen is the latest big name to join Team Unicorn for 2018 and beyond.
It's an important fresh start for the former Lakeside Champion as he plots his path back to the top, and a long-term tie-up with the No.1 darts company will surely help Klaasen achieve his goals.
He is aiming high and believes his darting renaissance starts here. "It is an honour for me to join Team Unicorn and it is a huge boost for me at this stage of my career."
"There is no doubt in my mind that Unicorn will help me to take my game to a higher level and make everything I need to be a better player. I have some ideas and I can't wait to get started with developing new darts."
Klaasen's immediate aim is to reclaim his place in the world's top 16 after his 2017 season was wrecked by a long-standing wrist injury which required surgery.
"I have been practicing more and more with the new prototype darts from Unicorn. They are perfect for me. I couldn't practice for a long time because of the injury. There are no shortcuts for a good and permanent recovery but I'm nearly there," he added.
The extent of Klaasen's problems became clear at the 2017 Premier League and corrective surgery on the wrist quickly followed.
But 'The Cobra' is determined to get back in the winner's circle. "I know I can win tournaments and TV tournaments as well. My A game is good enough and I am working very hard on becoming more consistent. Unicorn will come up with the perfect darts, then it is up to me."
Unicorn Managing Director Edward Lowy agrees: "Welcome Jelle to Team Unicorn. I vividly recall your incredible progress back in 2006 when you joined the elite group of World Champions. We very much look forward to working with you and making the full force of Unicorn's engineering and support available to you."
Of course Klaasen shot to prominence with that sensational World Championship triumph back in 2006 when he became the youngest man to win the tournament, aged just 21 and 90 days. He was a 100/1 outsider that week as he swept to an incredible victory over Raymond van Barneveld.
Still only 33-years-old, he has also reached the World Championship semi-finals at the Alexandra Palace, losing to his darting hero, and now Unicorn stablemate Gary Anderson in 2016.
Losing to fellow Dutchman Jan Dekker in the 1st Round of this year's World Championship cost Jelle his spot in the top 16 and a place at The Masters, but it has provided huge motivation.
"My big goal is to get back in the top 8 and back in the Premier League on merit and win a TV tournament! I know I can do it and with Unicorn behind me, I will achieve my dreams."
It will be an exciting few years ahead, that's for sure!
The Unicorn Jelle Klaasen range will be available from April 2018.
Story from STUART PYKE