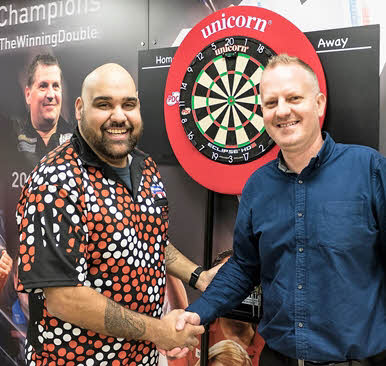 It's been some year for Kyle Anderson and it's just got even better with the news that the Aussie has signed a new long-term deal with Team Unicorn.
The new contract will take his time with Unicorn to at least seven years. It's been a meteoric rise for the boy from Down Under who gambled everything on a darts career and won!
Kyle Anderson is destined for the world's top 16 in the next 12 months and Unicorn will be with him every step of the way as the Australian ace targets the big prizes in the sport.
"It has been the perfect partnership," he said. "When I first came over to the UK to play on the tour, I went to Unicorn to buy some darts and ended up walking out with a contract! It has been a great relationship and long may it continue. They are the top darts company in the world for a reason!"
It's already been a breakthrough year for Anderson with two big PDC titles. In the space of just a week in August, he won his first PDC tournament - a Players Championship in Barnsley when he beat Kevin Painter 6-2 in the final after earlier hitting a 9 darter!
Then just a few days later, Kyle claimed the prestigious Auckland Darts Masters crown after beating Corey Cadby 11-10 in a thrilling all Aussie Final.
"My target is the top 10. For now, the realistic goal is that top 16. I am full of confidence and belief for the rest of the year. It's going to be a fun ride."
Anderson is also counting down to the World Championship after missing last year's Ally Pally blockbuster because of those visa problems, but all those issues are well and truly behind him.
Unicorn Managing Director Edward Lowy is delighted the popular Australian has extended his stay.
"Kyle is a fantastic player who has shown the world of darts what he is capable of by winning big tournaments, defeating the very best along the way. We are proud to have been associated with Kyle since 2014, so to continue our relationship is very pleasing."
Anderson has revealed the secret of his recent success.....little or no practice!
"When I changed my regime and started to practice more and more, my game actually suffered. So I went back to Plan A and I do an hour or so at the venue and it works for me, so long may it continue!"
The next few years certainly look like the years of success for Kyle Anderson.
Story by STUART PYKE