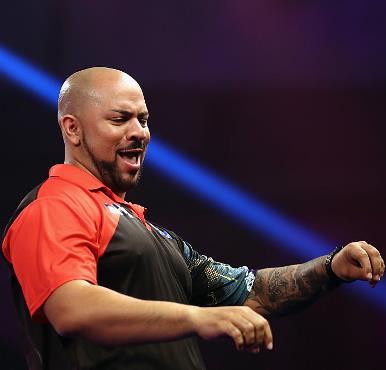 The best walk on in darts will be gracing the stage at the Alexandra Palace once again, because Devon Petersen is back where he belongs - at the World Championship.
Dancing Devon's spot has just been confirmed as he qualifies on merit for being the No.1 African darts player in the world. 
The Team Unicorn ace will return to the World Championship in December for a 5th time and he is guaranteed to make his mark at the Ally Pally.
And it will be just reward for Petersen after a tough year.
"2017 will go down as the hardest year of my career because my technique changes hindered my performances for a good six months. But many positives have come from all that with signs of progress and inevitable success."
He added: "My will to battle on and never doubting my ability was a big part of the motivation and kept me going in the dark times. It has paid off for me."
"I am ecstatic about the selection for the World Championship and it really is a message to the many African dart players that dreams really do come true. The message is perseverance pays off."
Petersen knows he faces a big 12 months ahead in his career but he is ready for the challenge as he also takes on the task of promoting the sport in Africa. 
The 31-year old from Cape Town in South Africa has launched his Last Man Standing project to find the next darting diamonds from the continent. 
"Along with my business partner Wesley Moolman, we are intent on developing the sport on our continent and this project will see many more African players come through to the PDC in the near future."
"A win for me is a win for Africa and I am very proud to represent all of them."
Story from STUART PYKE 
Photo courtesy PDC