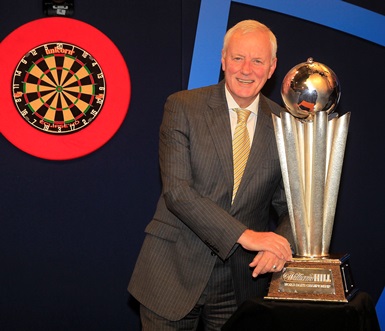 Darts has been given a stamp of approval by the British public after topping an independent poll as the UK sport with the highest integrity.
The UK Sports Integrity Index by Portland Communications polled over 2,000 members of the general public in June 2017 to measure the perceived level of integrity of the top 12 professional sports in the UK.
The poll looked at how far people had judged sports to be affected by four key issues: match, point or race fixing; players, racers or athletes using performance enhancing drugs; financial corruption; and cover-up stories & scandals.
Darts was perceived as the sport with the highest integrity by the most people in four age categories from 18-54, and as the least likely to be affected by performance enhancing drugs or cover-up stories.
"This independent report is a big thumbs-up for the sport of darts during a time of amazing growth at a professional level both in the UK and worldwide," said PDC Chairman Barry Hearn.
"PDC tournaments are amongst the most-watched sporting events on British television and our worldwide circuit will offer a record £12m in prize money this year - figures that could hardly have been dreamed of ten years ago.
"We work with the Darts Regulation Authority to implement both Anti-Corruption and Anti-Doping programmes, while the Darts Integrity Unit offers a confidential way of reporting any potential irregularities.
"Whilst this report is a massive boost, we have to continue to be vigilant in our development as a professional sport if we are to retain this standing with the most important people; the general public who both watch darts on television and buy tickets to attend PDC tournaments in-person.
"They're seeing wonderful characters battling it out on the oche, but the real beauty is that darts players are ordinary people with an extraordinary talent for their sport."