Molten Acentec Football Technology
Molten has developed a football that lands 2.2 times more precisely where the player wants it.  This means more ball control for fast and accurate reactions in every phase of the game. A ball that is not affected by the weather ensures long life. The water absorption is one-fifth of the value of normal balls. The development of ACENTEC technology is based on outstanding mechanical manufacturing techniques and provides an excellent, uniform surface. The result is consistent quality and consistently good ball feel.
Superior Performance
Patented ACENTEC structure.  Molten's unique thermal bonding technology, over a cushion foam layer, produces a smooth, seamless cover that cannot be accomplished by hand sewing. The result is a uniform surface and reduced water absorption, ensuring exceptional performance that is not affected by weather conditions.  Seamless for ultimate ball control.
Cross-fusion bonding
We replaced traditional hand sewing with a thermal bonding technique to get a smooth, seamless surface, better acceleration, and softer ball contact. The result, the VANTAGGIO, goes right where you want it, with minimal water absorption and maximum abrasion resistance.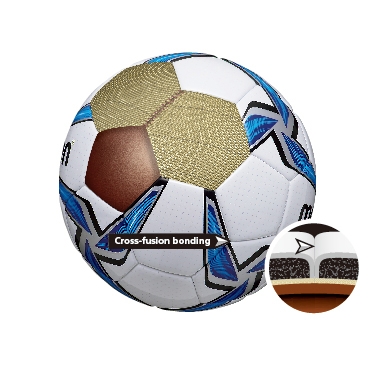 New Unified Outer Layer Technology
This machining technique increases the uniformity of the ball surface. As a result, no matter where and when it impacts, the ball will have consistent friction, and wear will be reduced. The ball rotates at a constant speed, allowing a more precise throwing and passing game.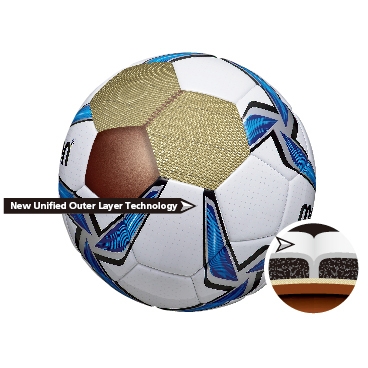 Enhanced multi-layer architecture
In developing VANTAGGIO, we have combined an advanced lamination process with the latest mechanical production techniques. The resulting multi-layer construction dramatically increases ball roundness, dimensional stability, and durability.
Optimised panel construction
VANTAGGIO's highly elastic foam is encased in a high-performance polyurethane shell for better ball control and ball acceleration. The innovative panel construction creates a high degree of elasticity.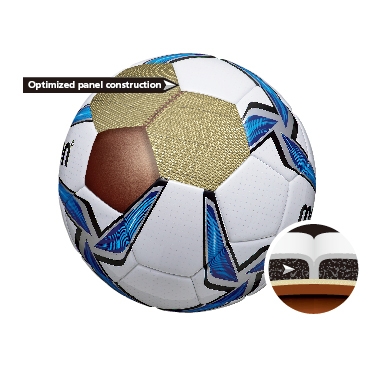 Purchase Acentec
The below Molten footballs use Acentec Technology