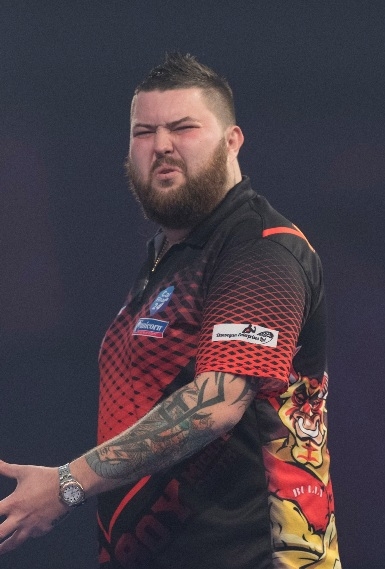 He gave it his best shot but Michael Smith just came up short in the World Championship Final.
Michael Van Gerwen won by seven ses to three to claim a third World crown at the Alexandra Palace.
The scoreline doesn't tell the story or reflect how well Smith fought back but the St Helens star just left himself too much to do.
He has shown he is World class and there is no doubt that this is only the start. He should be very proud of what he has achieved.
"I am gutted to be honest," Smith said. "In the cold light of day I will look back at the big chances that I missed. I just couldn't get going at the start and that cost me."
"This is my first one and I guarantee it won't be my last and I guarantee I will win that trophy. I will be World Champion. This will drive me on for sure."
Van Gerwen agreed: "This is very special for me. Michael pushed my very hard. He had me worried for a time. But one day he will lift this trophy. He is that good."
A glowing endorsement for Smith who acquitted himself superbly.
Smith found himself four sets down having missed 14 big darts at doubles. He fought back though, refusing to throw the towel in.
The Unicorn ace actually had darts to win five of the last six sets. That's how close he was, but he could only take three and Van Gerwen joined an elite group of three-time World Champions.
He averaged 102.21 to Smith's 95.29
But there is no doubt.....Michael Smith's time will come
The Story of the Final:
Set 1 - Pulsating opening set sees Van Gerwen take it on throw in a deciding leg. The Dutchman made an explosive start with a 129 finish on the bull. But two 180s from Smith and he is back in it. Van Gerwen misses two for the set and the Unicorn man levels, but the World No.1 takes the set on D6
Set 2 - Smith fails to take his chances. After missing the bull for a 167, he blew two chances at D10 to allow his opponent to break. Van Gerwen then takes out 126. The St Helens star breaks back with an 86 finish but then misses two more, this time at D12, to level and Van Gerwen hits D4 for a two set lead. At this stage Smith is 3/13 on the doubles. Those misses proving crucial
Set 3 - Smith just can't get a foothold in the final. Van Gerwen looks calm and composed. The Dutchman wires D16 to win the set without reply and Smith hits 66 to stay in it. But it is only brief respite as Van Gerwen hits D10 for a three set lead in the final
Set 4 - Disbelief as Smith blows four darts for the set. He led two one in legs and was sat on D10 for the set only for Van Gerwen to nail 84 on the bull. In the deciding leg Smith missed D12 for a 104 to take it. The Dutch ace though misses two darts of his own. The Unicorn ace steps back but is wide of the mark with three more darts at D12 and Van Gerwen opens up a four set advantage on D8
Set 5 - Smith is on the board! Superb from Smith. After Van Gerwen misses the bull for a 170 to win the set 3-1, the Team Unicorn man forces a deciding leg and then produces a magnificent 124 finish on D11 to make it four sets to one with his opponent sat on 20
Set 6 - Smith responds superbly with his best darts of the final....127 on the bull, 124 on the bull and then 70 on 'tops' and back-to-back sets. It was brilliant from Smith. He'd won five straight legs
Set 7 - The opening leg was huge. Both players hit 180s but Smith missed D13 to break throw and keep the momentum going. Van Gerwen seized the moment and a 112 finish gave him a five sets to two lead.
Set 8 - It went to another dramatic deciding leg. Smith had the darts but started with only 57 and 40. He fought back and incredibly wired the bull for a 170 for the set. After Van Gerwen missed D16, Smith returned with dart to make it 5-3 in sets. However he couldn't take his opportunity as darts at D10 and D5 went astray and Van Gerwen cleaned up to make it six sets to two
Set 9 - Smith is a battler and he kept fighting. A great 72 finish when Van Gerwen was sat on 20 for the title and then he stepped up to crack D7 for the set. A brave effort.
Set 10 - But it wasn't to be. A Van Gerwen 12 darter broke the throw and despite a 13th 180, Smith missed two more doubles. He had hit 18/46. After the Dutchman wired D16 for the title, Smith won what turned out to be his final leg and Van Gerwen hit a 14th maximum and another D16 to take the crown.
********************
Meanwhile Smith and Van Gerwen will be among the big guns at the 2019 Premier League . Unicorn star James Wade returns to the tournament after his European Championship and World Series victories. Of course Gary Anderson will be there and the field will be made up by Rob Cross, Peter Wright, Daryl Gurney, Gerwyn Price, Mensur Suljovic and Raymond van Barneveld.
Story by STUART PYKE
Image courtesy Lawrence Lustig / PDC