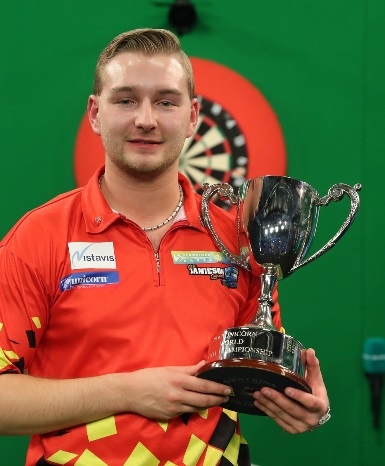 Dimitri van den Bergh is on course to defend his PDC Unicorn World Youth Championship Crown.
On Monday, the Team Unicorn star and defending champion, pictured here with his 2018 trophy, won through to the 2019 final in spectacular fashion.
He will face German ace Martin Schindler for the title at Minehead at the end of the month. The clash will be played on the big stage just before the Players Championship Final and will be screened 'live' on ITV4 on Sunday November 25.
Dimitri is looking to make history by winning back-to-back World Youth crowns and he was in imperious form all day.
The new system saw the players split into 32 groups. Van den Bergh won his with victories over Patrik Kovacs and Keelan Kay. In the last 32, he beat Melvin de Fijter 6-3 and followed that with wins over Thomas Lovely and Christian Bunse to reach the semi-finals.
It came down to an all Unicorn clash for a place in the final. The in-form Ted Evetts against Van den Bergh. But Dimitri wasn't to be denied and stormed to a 6-1 triumph to set up the showdown with Schindler. The German beat Callan Rydz 6-3 to qualify.
Rydz edged out Unicorn youngster Harry Ward in the quarter-Finals. Ward put up a tremendous display and was beaten 6-5. He left 48 after nine darts in the deciding leg but didn't get a shot at a double.
Evetts has enjoyed an amazing weekend but just fell at the final hurdle.
Youngster Adam Paxton also did himself and Unicorn proud by reaching the last 32 where he lost 6-2 to Ryan Meikle.
Dimitri is determined to hold onto to his title: "It was a very special moment for me last year and it feels great to be able to have the chance to defend my title. I will be ready to still be called PDC Unicorn World Youth Champion."
Last year Van den Bergh beat Josh Payne to claim the prized title. Later this month it is German Martin Schindler who stands in his way.
Story from STUART PYKE
Image courtesy PDC