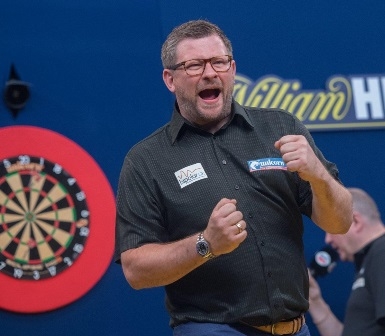 Unicorn star James Wade just avoided another shock defeat on the opening day of the US Masters.
Team Unicorn stablemate Gary Anderon produced the performance of the day in Las Vegas with a stunning average of 112.63, while Michael Smith was also a winner.
But Wade, who was on the end of a big upset 12 months ago in Vegas when he lost to Dawson Murschell, had to survive match darts before edging past American youngster Danny Lauby.
'The Machine' found himself trailing 4-2 to an inspired American. The Unicorn man had taken out 141 to stay in the match and got a huge slice of luck when Lauby missed six darts to move 5-2 in front.
Wade still had work to do after a 120 check-out saw Lauby lead 5-3....but the American then missed two match darts to win 6-3 and Wade seized his opportunity. He forced the last leg decider and won it in some style with a brilliant 158 finish.
"I must bring the best out of these North American players!" he joked. "I know I was fortunate but I never give up and always felt confident in that last leg."
Wade will now face defending champion Michael van Gerwen in the quarter-finals at the Mandalay Bay.
Anderson was quite superb in seeing off big American DJ Sayre 6-1. His 112.63 average was the fourth highest in World Series history. He hit two 11 darters and two 12 dart winning legs.
The Scot was also on course for a 9 darter.....seven perfect darts came in the 5th leg. Gary nailed six doubles from only nine attempts and hit five 180s along the way. It was a sensational display.
Anderson now takes on Dawson Murschell after the Canadian youngster shocked Gerwyn Price, winning comfortably 6-2.
Next up for Michael Smith is a clash with World Champion Rob Cross. The St Helens star won the opening match of the tournament as he swept past Canadian David Cameron 6-1. Smith banged in two maximums. It was a steady performance and he knows he will have to step it up against Cross.
1st Round results:
Michael Smith 6-1 David Cameron
James Wade 6-5 Danny Lauby
Rob Cross 6-1 Ross Snook
Gerwyn Price 2-6 Dawson Murschell
Gary Anderson 6-1 DJ Sayre
Michael van Gerwen 6-0 Jeff Smith
Peter Wright 6-4 Joseph Huffman
Daryl Gurney 6-2 John Norman Jnr
Saturday Q/Finals (best of 15 legs)
Peter Wright v Daryl Gurney
Rob Cross v Michael Smith
Gary Anderson v Dawson Murschell
Michael van Gerwen v James Wade
STUART PYKE reporting from the US Darts Masters
Images courtesy Tom Donoghue / PDC