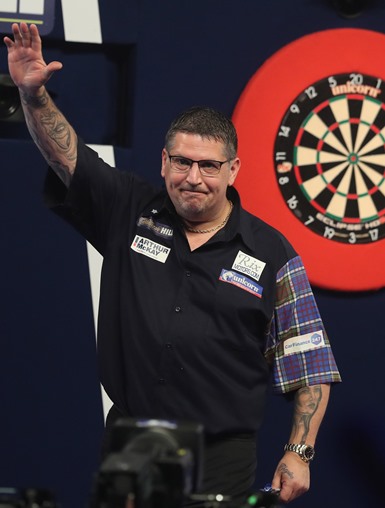 Gary Anderson peeled back the wrapping from his set of brand new Unicorn darts and it was business as usual on the Alexandra Stage.
He brushed aside the challenge of Canadian Jeff Smith in brutal fashion with a three sets to nil score-line, dropping only two legs and setting new records.
In the second set, the Team Unicorn star averaged an astonishing 131.93 which is the second highest set average in the history of the World Championship. Gary also holds the highest set average....132.61 in his semi-final against Jelle Klaasen three years ago when he hit the 9 darter!
"I played better than I hoped to be honest," he said. "The 1st Round is always very difficult."
"I would love that World Title back! Michael took it from me last year and I want to do the same to him this year."
He took the first set with ease and then came the magic. In the second set, Gary hit six perfect darts in the opening leg, four 180s and a 177 and wired the bull for a 170 finish! It was amazing.
Despite missing six match darts, Anderson finally hit D3 to go through with an end average of 101. Watch out, Gary Anderson is around at the Ally Pally!
For Unicorn's Joe Cullen, a heart-breaking defeat in one of the best 1st Round matches ever seen on the Ally Pally stage. It will be no consolation to Cullen whatsoever.
The Unicorn ace lost in a deciding set tie-break to Jermaine Wattimena after blowing four match darts. It was an astonishing game with 20 legs of darts taking just 29 minutes playing time.
Cullen will be kicking himself. After losing the first set in three straight legs, he replied in kind to level. Wattimena took set three and Cullen came alive as he won four straight legs to hit the front for the first time in the match.
He took out 130 and 84 on the bull in winning the fourth set and a 79 check-out to break throw at the start of the decider to give him the advantage. Wattimena then levelled with a superb 141 finish but Cullen broke again.
He threw for the match and wired 'tops' for a 160 out to win it! He returned with three clear darts at 'tops' and D10 but missed the lot. Wattimena levelled to force the tie-break and then took back-to-back legs to send Cullen home.
It was a classic case of what might have been and what should have been for Cullen.
By STUART PYKE at the Alexandra Palace
Photo courtesy Lawrence Lustig / PDC