In the background of England's record-breaking series against Australia, the County Championship continued this week as we reached the halfway mark of the season.
With English players eyeing the upcoming series against India in August, those in the squad looked to find some form, whilst those on the fringes looked to bank as much cricket currency they could muster to force their way into the squad.
A couple of those looking to make a name for themselves are the Surrey duo of Rory Burns and Ollie Pope. Burns in particular has been in the England opening batsman conversation for the last couple of years thanks to some remarkably consistent run-scoring, passing 1,000 runs for the past 4 seasons and was the first man this year to pass the 500 mark before the start of Surrey's match against Somerset this week.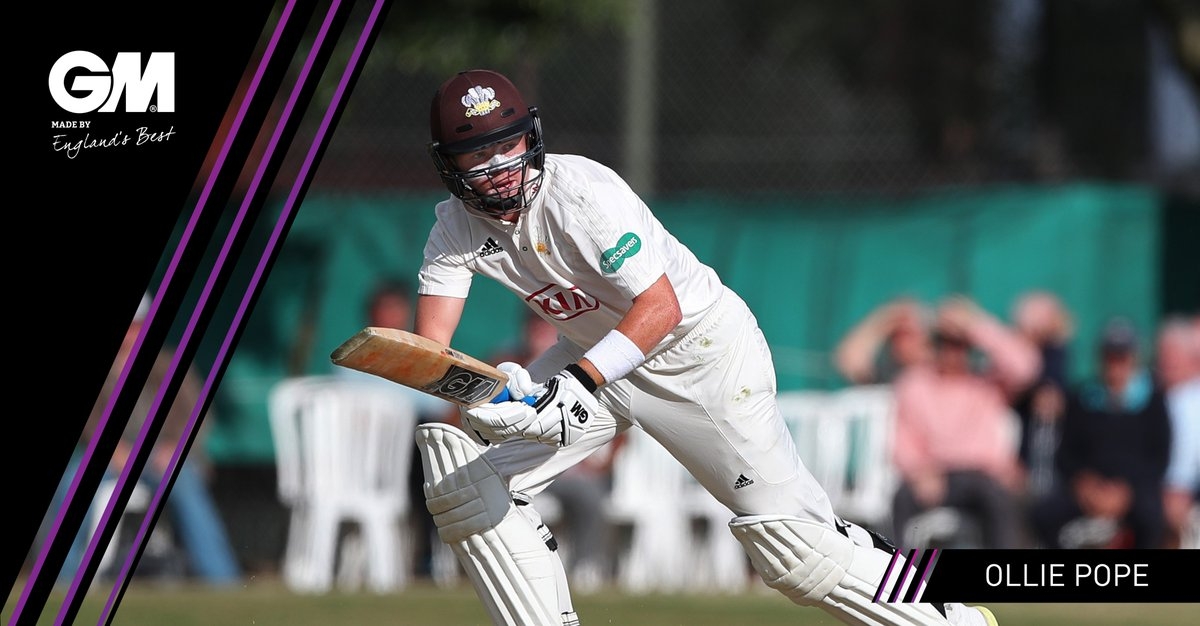 Burns, having been asked to bat, continued his rich vein of form by reaching his first 50 of the competition to go along with his two hundreds in the earlier rounds of the season. When he was dismissed for 66, his Surrey side had already passed 150 for the loss of just two wickets.
By the time Pope came to the crease Surrey were 247/4 and looking to press home the advantage that Burns & co had given them in the early going. 20-year-old Pope continued the outstanding start to his career by notching his third hundred of the season, the fourth in his career, to overtake Burns as the leading batsman in Division One. Pope made 117 from 134 balls, including 19 boundaries to help Surrey reach their highest score of the season, finishing 459 all out.
Despite a solid a start from Somerset's batsmen, a spectacular spell of 6 wickets in 3.5 overs from Ryan Patel ensured that Somerset were bowled out for 180. They were asked to follow-on and began cautiously before a top-order collapse saw them slip to 69/5, with only their stalwart James Hildreth providing any resistance. Somerset were eventually dismissed for 210 to give Surrey a victory margin of an innings and 68 runs, with more than four sessions in the match to spare.
It is the first time since 1958 that Surrey have won three games in succession by an innings and they went on to win the Championship that season as well and Surrey have now opened up a 13-point gap at the top of Division One, with a game in hand.
In Chelmsford, Nottinghamshire headed to Essex looking to make up for the last couple of results that saw them lose their spot at the top of the table to Surrey after a fast start. Having chosen to bat first, Notts were shown the way by New Zealand batsman Ross Taylor who made a brilliant 146 of his side's first innings total of 380.
Without star bowler Jake Ball, who was away on England duty, Notts looked to the experienced duo of Luke Fletcher and Harry Gurney to deny the defending champions from leapfrogging them in the table. Fletcher responded immediately, picking up two early wickets to leave Essex reeling on 26/3, with Gurney then chipping in with the ever-crucial wicket of Alistair Cook following a re-building partnership worth 54 runs.
Fletcher picked up a couple more wickets in the middle order to finish with 4/43. Essex meanwhile finished 206 all out, 174 runs behind the visitors. Slightly surprisingly, Notts declined to enforce the follow-on, instead electing to press home their advantage and put the game beyond doubt. Despite a less than ideal start, Notts eventually found their way to 266 all out, to leave the equation as 411 runs needed from 131 overs.
Essex's chase got off to a terrible start, losing 3 wickets in 11 overs and a further one off the bowling of Samit Patel at the end of day three to leave the hosts 88/4. Notts required just the morning session of day 4 to race through Essex's middle and lower order, with Patel, Fletcher and Gurney taking 2 wickets apiece in the innings to secure a comfortable victory.
Elsewhere, Worcestershire claimed their first win of the season against fellow strugglers Lancashire in a bottom of the table clash. Asked to bat first, Worcester were in trouble early having slipped to 81/5 before some middle order resistance saw them reach 247 all out, despite Jordan Clark picking up career-best figures of 4/43.
Lancashire's reply was almost Worcester's in reverse as they got off to a good start before slipping from 77/1 to 112/8 in 16 overs, eventually finishing 130 all out. Alex Davies made 43 at the top of the order, but his wicket signalled the start of Lancashire's dramatic collapse.
Worcester made amends in their second innings, posting 484/7d, 62 of which came from Tom Fell, as they scored freely to ensure plenty of time in which to force a result. Once again, Jordan Clark was the pick of the bowlers, taking 3/96.
Chasing a near impossible target of 602, Davies once again struck the ball with typical ease to race to 64, 56 of which came in boundaries. Though his dismissal didn't spark a collapse akin to the first innings, his teammates lost their wickets regularly after getting a start, meaning that though there was hope, the reality of the situation became ever clearer as they were eventually dismissed for 399, a loss by 202 runs.
The final match in Division One saw Hampshire take on Yorkshire in a high-scoring day/night match in Southampton. Yorkshire batted first and posted 350 all out, with Kyle Abbott picking up a wicket to wrap up the innings.
Hampshire's reply was aided by contributions of 35 runs apiece for James Vince and Abbott, but significant partnerships in the middle of the innings allowed Hampshire to reach 443 all out. Adam Lyth picked up the wicket of fellow GM player Abbott, finishing with 1/54.
Unfortunately there wasn't enough time left in the match for a result as Yorkshire batted for all of the final day to secure a hard-fought draw.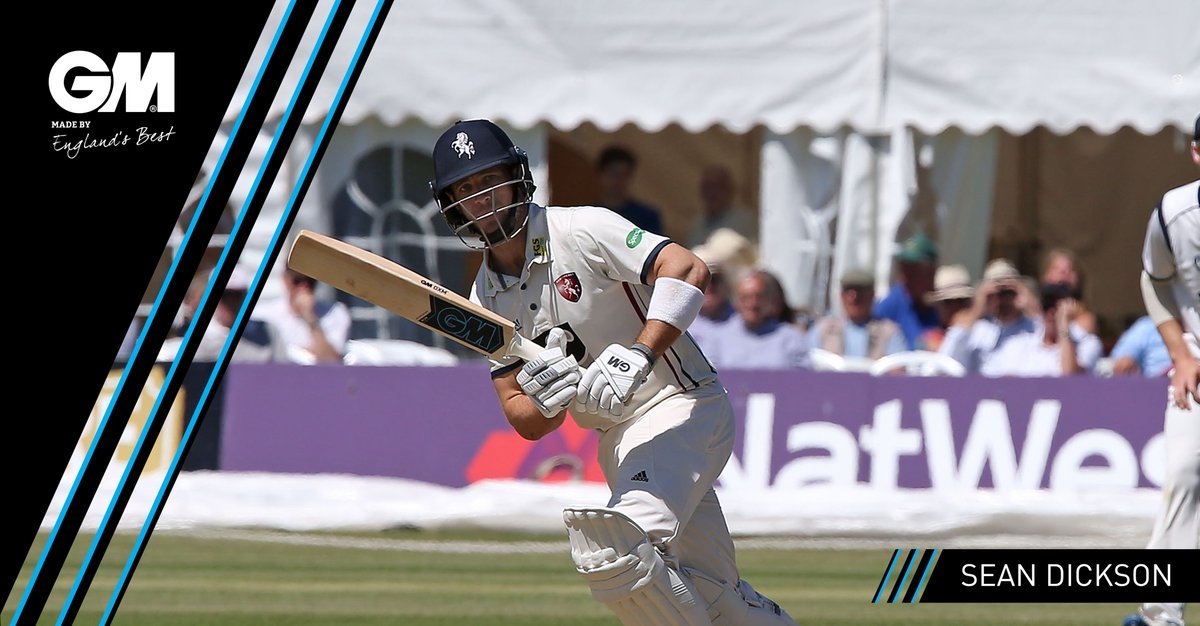 In Division Two, Sean Dickson continued his terrific run of form to score his second First Class hundred in as many matches as his Kent side took on high-flyers Warwickshire. On a pitch that seemed to get much easier as the game went on, Kent were bowled out for 197 in the first innings, before rolling through Warwickshire top order to leave them 61/7. Jonathan Trott provided the only real resistance of note, eventually finishing 51* in a total of 125, on a day where all 20 wickets fell.
Dickson's second innings effort surpassed Yorkshire's entire total as he scored a fantastic 133, including a 208-run partnership for the third wicket. Kent eventually declared on 446/8, setting Warwickshire a target of 519. A huge second wicket partnership saw The Bears reach 304/2, but after both centurions were dismissed, Kent continued to chip away with Warwickshire eventually falling short by just 73 runs.
In a thrilling match between Middlesex and Leicester, Dawid Malan's side emerged victorious after chasing down the target of 381 with one wicket remaining and only 6.3 overs left in the match. After dismissing Leicester for 427, Malan himself made the most significant contribution in their first innings as he made a defiant 78* before his side slipped to 233 all out.
However, Middlesex's bowlers did a fantastic job of restricting Leicester to just 186 all out, swinging the momentum of the match in their favour for the first time. Despite losing a wicket on just the third ball of the innings, they began to stubbornly rebuild enough to keep the chase in check, with the Middlesex bowlers able to knock the remaining runs off.
In Swansea, Derbyshire travelled to Glamorgan with both sides hoping to kick-start their campaign. The home side batted first and struggled their way to 283 all out, thanks largely to Andrew Salter's 72*, his 8th First Class 50.
In reply, Derbyshire reached 90 for the first wicket, but lost opening batsman Billy Slater for 52 just one run later. Salter showed off his all-round ability by taking 4/105 in the innings to restrict Derby to 362 all out, which at 265/5 could have been far worse.
The home side made amends in their second innings, racking up 403/7d in just 82 overs, setting Derby a target of 325 runs in 63 overs. Derby's chase was hampered with early wickets, meaning that in the end all they could do was scrap for a draw, eventually finishing 147/8 to share the points.
Finally, the exciting talent of Ben Duckett, who to this point has battled with indifferent form, showed why he earned a Test Match call-up a couple of years ago by playing some typically entertaining innings to set up an invaluable win for struggling Northants.
In the first innings, Duckett made 52 in 54 balls to get his side off to an electric start. Unfortunately his teammates were unable to keep the momentum going, slipping from 99/1 to 282 all out. Their bowlers, however, were able to race through Gloucestershire, bowling them out for just 62 in under 32 overs, allowing them to enforce the follow-on.
Gloucester were once again unable to mount much of a fightback, but did manage to get a lead in the match, but losing 3 wickets for 0 runs meant that they could only muster a lead of 30. Duckett was clearly in a rush, as he chased the target down by himself, finishing 32* in just 18 balls.