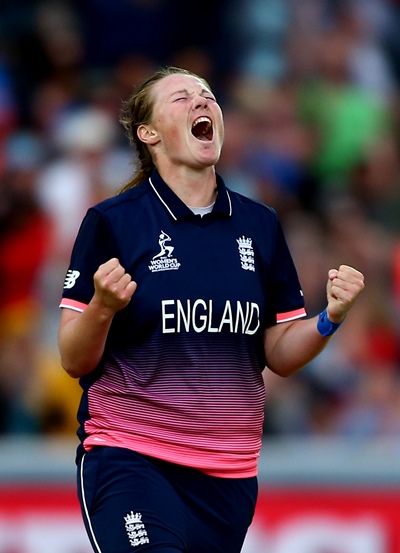 England women's bowler Anya Shrubsole has won the 2017 Christopher Martin-Jenkins Spirit of Cricket Award.
Gunn & Moore star Shrubsole becomes the first women's cricketer to receive the award thanks to her selfless actions in the ICC Women's World Cup Semi-Final victory over South Africa at Bristol in July.
In a tense finish, England booked their place in the World Cup Final at South Africa's expense with only two balls remaining, having already lost eight wickets.
Shrubsole's boundary off Shabnim Ismail sealed the victory for England, but in an act akin to Andrew Flintoff consoling Brett Lee at Edgbaston in 2005, the 25 year-old seamer opted to comfort distraught South Africa captain Dane van Niekerk before celebrating with her teammates.
England of course went on to win the World Cup in thrilling fashion at Lord's later in the month in front a packed crowd, as Shrubsole bowled the hosts to victory over India with devastating figures of 6 for 46, including five wickets in 19 balls.
The award was created by Marylebone Cricket Club and the BBC in memory of former MCC President and BBC Test Match Special commentator Christopher Martin-Jenkins, who passed away in January 2013, and was passionate about promoting the spirit of the game.
The previous winners of the award since its inception are GM's Wayne Madsen of Derbyshire, Sussex's Luke Wright, Brendon McCullum for his sporting conduct as captain of New Zealand, and Tom Fell of Worcestershire, also a member of Team GM.
President of MCC Matthew Fleming said, "MCC works tremendously hard at promoting the Spirit of Cricket at all levels of the game along with the 'Play Hard, Play Fair' message, and it is entirely appropriate that the actions of players like Anya are rewarded.
"England Women have of course enjoyed an unprecedented year of success and we are delighted that a player who starred in one of the most memorable Lord's finals ever is the recipient of this award."
BBC Test Match Special Producer Adam Mountford said, "Anya demonstrated the true spirit of cricket by thinking about the feelings of an opponent even in a moment of dramatic victory.
"She is a deserved winner of the CMJ award and I am especially delighted that in the diamond anniversary year of the programme Judy Martin-Jenkins was able to present the award."
Shrubsole was presented with an engraved crystal champagne ice bucket on Day Three of the Investec Test Match between England and West Indies at Lord's.
GM's Managing Director Peter wright says: "We are very proud to have Anya as a member of Team GM and everyone at GM sends her our warmest congratulations on this prestigious award."
Photo courtesy Getty Images